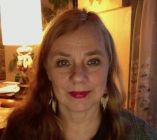 Jeanne Wilkinson is an artist and writer living in Brooklyn, NY and Madison, WI. Her writing has been featured on WNYC's "Leonard Lopate Show," on the NPR show "Living on Earth," in Columbia Journal online, Digging Through the Fat, Raven's Perch and New Millennium Writings. Her critical essays and reviews have been published in Sculpture, American Ceramics, Ceramics Monthly, The New York Review of Art, Review Magazine, D'Art International, Cover Magazine, Tribeca Trib and numerous artists' catalogs.

Formerly an abstract painter, she now incorporates her paintings and drawings into complex and mysterious digital collages and animations. In her Animated Abstraction Series, paintings now move and morph within their own "movies"—as if the painting were having a dream of itself. Another series depicts the vision quests and adventures of "The Painted People" (former Barbies, Kens, GI Joes) who travel the earth and beyond. She also uses numerous art apps to create "blended" imagery that merges her artwork and photographs.

Having grown up on the edge of the pristine waters of Lake Superior, Wilkinson is attracted to the colors and dynamic forms of nature. She is also aware of current environmental dilemmas and concerns which are at times reflected in her artwork. The Painted People's "Night in the City" series, called "iridescent" by the critic Dan Bischoff, hints at the apocalyptic nature of 21st century life. Her video installation "Voyage" tracks the surreal journey of a mountain lion from city to wilderness, and another, the "The Sun and the Horn," celebrates the Summer Solstice. Using two projectors, she projects on translucent scrims, giving the imagery a mysterious, ever-changing flow and also allowing people to interact with the imagery. She then photographs these interactions, adding yet another layer to the experience.
Her digital collages and animations are made by layering and merging the artist's photos of nature, cities, dolls, drawings, paintings, etc. using Photoshop and After Effects. The imagery can be presented in varying ways and in virtually any size: as prints, mounted photographs, projected on a wall, or within digital frames.

Wilkinson's artwork has been shown extensively worldwide, and reviews and interviews have appeared in Huffington Post, Hyperallergic, and Creative Sugar Magazine. Her experimental short films were screened at the Greenpoint and NYC Indie Film Festivals, and a video installation was shown at the 13th Street Repertory Theater, NYC, in a play called "Lovers, Letters and Killers." Photo essays were published in The Adirondack Review and Five:2:One online. In September, 2018, her "CityScape" and "City Symmetry" series won honors in J. Mane Gallery's "Urban Landscape" exhibition and on Fusion Art's Artist Spotlight Solo Exhibition, respectively.