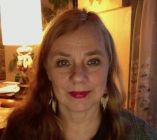 Jeanne C Wilkinson is an artist and writer living in Brooklyn, NY and Madison, WI. Formerly an abstract painter, she now incorporates her paintings and drawings into complex and mysterious digital collages and animations, often using what she calls her "Cloud Tunnel." She utilizes numerous art apps to create "blended" imagery that merges her artwork and photographs.
Having grown up on the edge of the pristine waters of Lake Superior, Wilkinson is attracted to the colors and dynamic forms of nature. She is also aware of current environmental dilemmas and concerns which are at times reflected in her artwork. The Painted People's "Night in the City" series, called "iridescent" by the critic Dan Bischoff, hints at the apocalyptic nature of 21st century life. Her "Cloud Tunnel" video installation "Voyage" tracks the surreal journey of a mountain lion from city to wilderness; the "The Sun and the Horn" celebrates the ancient earth-ceremony of the Summer Solstice; Earthlings is a celebration of life. In the Cloud Tunnel, she projects on translucent scrims from two projectors, giving the imagery an ever-changing flow and also allowing people to interact. She then photographs these performances, adding yet another layer to the experience. The writer David Gibson, in his recent essay on her Cloud Tunnel work, says they contain "mad energy" and are "proof of an evolving consciousness, each one a highly charged interval with esthetic consequences." Her digital collages and animations are made by layering and merging photos of nature, cities, dolls, drawings, paintings, etc. using Photoshop and After Effects. The imagery can be presented in varying ways and in virtually any size as prints and mounted photographs.
Her writing has been featured on WNYC's "Leonard Lopate Show," on the NPR show "Living on Earth," in Columbia Journal online, Digging Through the Fat, Raven's Perch, New Millennium Writings, and more. Her critical essays and reviews have been published in Sculpture, American Ceramics, Ceramics Monthly, The New York Review of Art, Review Magazine, D'Art International, Cover Magazine, Tribeca Trib and numerous artists' catalogs. Wilkinson's artwork has been shown extensively worldwide, and reviews and interviews have appeared in Huffington Post, Hyperallergic, and Creative Sugar Magazine. Her experimental short films were screened at the Greenpoint and NYC Indie Film Festivals, and a video installation was shown at the 13th Street Repertory Theater, NYC, in a play called "Lovers, Letters and Killers." Photo essays were published in The Adirondack Review and Five:2:Oneonline. Her work has won many honors and awards, including a recent one at Upstream Gallery's "Our Bodies, Ourselves, Ten Years On" exhibition honoring this iconic book that was a milestone in women's lives.