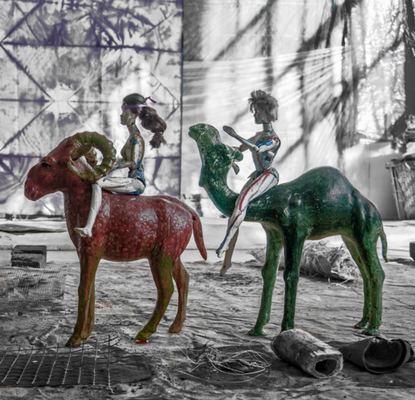 The Painted People in Long Island City
The "Painted People" come into my studio as Barbies, Kens and G.I.Joes, and leave it as a clan of wanderers who travel the universe both virtually and in "reality." In this case, they went to the Long Island City studio of my friend Susan Sechler Luss, and spent the afternoon exploring new terrain. Her paintings, collages and installations of found objects from the city streets turn an ordinary room into a place of light and mystery. I desaturated the photos to bring attention to the shadows and patterns, but left a little color to shine through like a rainbow out of silver clouds.
---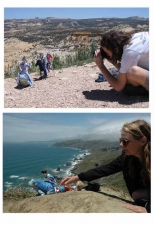 Western Walkabout (photographed by Andrew Keeley Yonda)
The Painted People are formerly dolls and found-objects, transformed in my Brooklyn studio using abstract expressionist dripping and various other techniques. From being cast-off Barbies, Kens, GI Joes, they were alchemized into Ayla, Red, Rocco and Crystal, along with the Horse With No Name and Mr. Blue, their trusty toad. These original six went on a vision quest, their Western Walkabout, beginning in the Colorado mountains and ending in the waves of the Pacific—this trip mirroring one
I took in the late sixties in a painted VW bus. This series is straightforward, non-altered photography where the People have been documented in situ in various western landscapes, choreographed by myself and photographed by my son Andrew Keeley Yonda, photographer and musician.


(Click on images to enter.)


---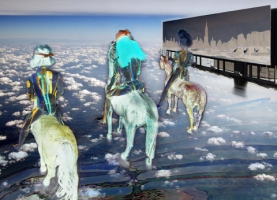 Sky People
The Painted People hover above, then descend at their leisure.





---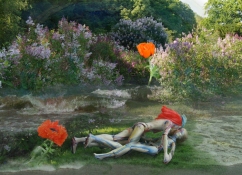 Love in the Garden
The Painted People celebrate their own "summer of love." Garden images from the Brooklyn Botanic Garden.




---
Night in the City (Painted People)
Night in the City Series of the Painted People


---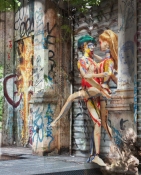 Love in the Ruins (X-rated)
The Painted People in love.
---